I am generally freezing by nature. We keep our thermostat at 68° in the winter (high, by some frugal standards), which means that frequently, when the sun goes down I'm cold. While many, many frugal sites will just suggest layering I'm going to give you some practical & somewhat unfashionable specifics.
Wear a scarf
--It's doesn't have to be a fashion scarf, it could be some hideous hand knit monstrosity. It doesn't matter, covering your neck can make such an immense difference.
Poncho love
--This warm & lovely blanket fashion statement is back in style. Be still my beating heart. Need I say more?
Tuck in that shirt
-- Keeping your stomach protected from little drafts can make such a big difference.
Invest in some slippers
--Generally the thicker & more foot area covered the better.
Wear a hat
--This makes my head itch, but if you're a hat lover, consider this as an option.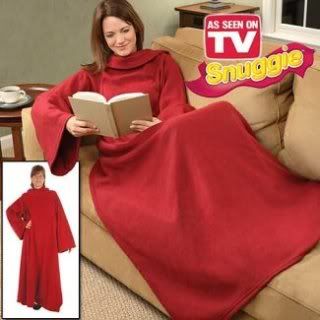 Bust out your bathrobe
--I know a lot of people might this is bizarre, but I don't have a sweater that goes all the way down to my ankles & keeps me warm. I do believe if I had a Snuggie perhaps I'd wear that around the house. Anything in the name of warmth.
Wrap up under blankets
--We always sit with afghans while on the couch, but most nights, once Emerson goes to bed we head back to our bed & sit under the covers while reading, watching tv, or working. I honestly think the only times when I'm warm in the winter are when I'm in our cozy bed.
My philosophy in the winter is function, not fashion. While I'm at home I don't care if I look like some sort of bag lady as long as I'm warm. That's what home is for isn't it?